Posts for: January, 2013
By Michael J Morris, DDS
January 15, 2013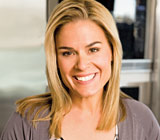 When asked about her dazzling white smile, Cat Cora, the first female iron chef on the hit television series Iron Chef America, freely admits to maintaining the brightness of her smile with professional whitening sessions.
"With what I do, whitening your teeth is like getting your hair done, your nails done and everything else you have to do to be on television," Cat recently told Dear Doctor magazine. However, she does have her limits. "I want my teeth to be white and healthy looking — but not stark white or looking like they could glow in the dark," she said with a laugh.
Cat's perceptions and experiences with tooth whitening may accurately describe Hollywood, but through the power of media, celebrities and their respective fan bases, having attractive white teeth has become a goal for most people. This is because white teeth are subconsciously associated with youth and virility.
Here in the dental office, we can use professional-strength "power bleaching" to whiten teeth several shades in a single visit. To prevent irritation to the area surrounding the teeth being treated, we isolate the gums and skin of the mouth with a protective gel or a rubber barrier known as a dental dam. After the whitening solution is placed on the teeth, the process may be supplemented by heat or a light source to activate or enhance peroxide release.
For bleaching teeth at home, our office can make custom-fitted bleaching trays that you fill with a gel form of carbamide peroxide. Sometimes this whitening gel can cause a temporary tooth sensitivity to hot and cold, but this normally lasts for no more than four days after you stop bleaching your teeth.
To learn more about tooth whitening, you can continue reading the Dear Doctor magazine article "Teeth Whitening." Or you can contact us today to schedule an appointment so that we can conduct a thorough examination and discuss what treatment options will be best for you. And to read the entire interview with Cat Cora, please see the article "Cat Cora."
By Michael J Morris, DDS
January 05, 2013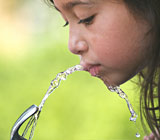 We know from research extending back to the 1930s that very small amounts of fluoride in drinking water can significantly reduce dental caries (cavities) with no negative health effects. Fluoridated water is currently available to 70% of all Americans. However, we have also learned that excess fluoride from combined sources can result in staining of teeth called "fluorosis."
What is the optimum fluoride concentration for healthy teeth?
A fluoride concentration of about 0.7-1.20 milligrams per liter (mg/L), or .7 to 1.2 ppm (parts per million), in the water supply seems to be optimum for dental health without causing negative effects. This concentration is about the same as a grain of salt in a gallon of water. An amount of 1 ppm was originally considered the safe standard, but since today Americans have access to more sources of fluoride than they did when water fluoridation was first introduced, the recommended amount has been reduced to .7 mg/L or .7 ppm.
The crucial amount to measure is the quantity of fluoride that is swallowed. Generally, the optimal level of fluoride per day from all sources is thought to be about .06 milligrams per kilogram of body weight, or about a sixth of the weight of a grain of salt for every two pounds of body weight.
It is probably not possible to calculate the precise amount of fluoride each person ingests per day, because the amount depends on more than just the amount of tapwater you drink. Bottled waters, soft drinks and juices also contain fluoride. Breast milk and cow's milk are very low in fluoride, but infant formulas may contain higher levels. Foods found to have high fluoride content include teas, dry infant cereals and processed chicken, fish and seafood products. Toothpaste can contribute to a child's total fluoride intake if the child swallows it.
What are the effects of too much fluoride?
Dental fluorosis produces a "mottling" of the outer coating of the tooth, the enamel. Mottling may show as staining ranging from small white striations to stained pitting and severe browning of the enamel surface.
The first six to eight years of life is the most risky time for development of dental fluorosis. Parents need to monitor their children to make sure they use small amounts of fluoride toothpaste (an amount the size of a pea on the brush is recommended). Watch for white spots on the enamel (hard outside coating) of your child's teeth. White spots from fluorosis mean it is time to pay attention to how much fluoride your child is getting from various sources, and to cut back on the total. You want fluoride's protection against cavities for your child's teeth, without the unsightliness of dental fluorosis from too much fluoride.
Contact us today to schedule an appointment to discuss your questions about fluoride. You can also learn more by reading the Dear Doctor magazine articles "Fluoride & Fluoridation in Dentistry" and "New Fluoride Recommendations."