Posts for: May, 2014
By Michael J Morris, DDS
May 16, 2014
Close the Gap between Missing Teeth and Restore Function with Dental Bridges
Are you missing a tooth? Are you missing more than one tooth? One or more missing teeth can adversely affect the appearance and functionality of your smile. Missing teeth can cause a change in occlusion (bite), shifting of the teeth, TMJ – temporomandibular joint disorder, speech impediments, an increased risk for periodontal disease (gum disease) and a greater chance of tooth decay.
Thankfully, achieving a natural-looking smile after tooth loss is now possible with dental bridges. Like implants and dentures, dental bridges are used to fill a gap created by a missing tooth or teeth. There are several types of fixed dental bridges, including conventional-fixed bridges, cantilever bridges and resin-bonded bridges. With help from our dentist in Spring, TX, let's take a closer look at dental bridges.
Just what is a Dental Bridge?
A dental bridge is
a false tooth, or teeth, known as a pontic
, which is fused between two porcelain crowns to fill in the area left by a missing tooth or teeth. The two crowns holding it in place are attached onto your teeth on each side of the false tooth, also known as a fixed bridge. A fixed bridge cannot be taken out of your mouth as you might do with removable partial dentures. Additionally, in areas of your mouth that are under less stress, such as your front teeth, a cantilever bridge may be used. Cantilever bridges are used when there are teeth on only one side of the open space.
The Dental Bridge Procedure
During your first visit, our Spring, TX dentist will examine the health of your gums and other teeth to evaluate if you are a good candidate for a dental bridge. If you are, you will be given a local anesthetic so that your teeth can be prepared to support the bridge. If the supported teeth are decayed or badly broken down, your dentist may have to build them back up before they can be used as support teeth for a bridge.
Next, our dentist in Spring will take an impression of the prepared teeth with a putty-like material that is used to create a model of your teeth. Your dental bridge is fabricated based on this model by a skilled lab technician so that it precisely fits the prepared teeth. It is important that your restoration fits perfectly to avoid additional oral health complications.
While your bridge is being created, you may be fit with a temporary bridge so your teeth and gums will be protected from damage until your permanent bridge is ready. To complete the dental bridge procedure, you must return to your dentist's office for a second visit to have the bridge fitted and cemented.
If you have missing teeth and practice good oral hygiene, you should discuss the option of dental bridges with our Spring dentist. If spaces are left unfilled, they may cause the surrounding teeth to drift out of position. Additionally, spaces from missing teeth can also cause your other teeth and gums to become far more susceptible to tooth decay and gum disease.
Visit our office today for more information on how you can eliminate gaps left by missing teeth with dental bridges in Spring.
By Michael J Morris, DDS
May 16, 2014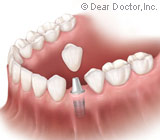 Q: I've heard about dental implants, but I'm still not sure exactly what they are. Can you explain?
A: It's no wonder you've heard of them: Dental implants have been called the most exciting advance in dentistry in the last 50 years! Essentially, the implant itself is a small, screw-shaped post that is placed in the jaw bone (underneath the gums), and serves as a replacement for the tooth's roots. It is attached to a lifelike crown (a replacement for the visible part of the tooth) via a sturdy connector called an abutment. Dental implants offer results that can last a lifetime, and have the highest documented success rate of any tooth replacement system — over 95%.
Q: How does a dental implant work?
A: A few decades ago, it was discovered that titanium metal has a unique property: It can actually become fused to living bone tissue in a process called osseointegration. Implants are made of titanium, and take advantage of this feature. Solidly anchored in place by both osseointegration and mechanical forces, dental implants provide a strong and durable base for several different kinds of natural-looking and fully functional replacement teeth.
Q: What are dental implants used for?
A: One dental implant can be used to replace just one missing tooth with a crown that matches your own teeth. Two or more dental implants can be used to support a fixed bridge (a series of three or more replacement teeth) without requiring any work to be done on the adjacent, healthy teeth. Four or more implants can support an entire arch (complete top or bottom set) of replacement teeth that won't slip and will never need to be removed — a great alternative to traditional removable dentures! Implants can also be used to support some kinds of removable dentures, and in certain orthodontic procedures.
Q: What is the procedure for getting a dental implant?
A: The implant process begins with a consultation, a thorough exam, and a set of diagnostic images. Placing one or more implants involves minor surgery, which is typically performed in the dental office and requires only local anesthesia. After the area has been numbed, a small opening is made in the tissue of gums and jaw bone, and the implant is carefully inserted. In some situations, a temporary replacement tooth may be placed on the implant immediately; otherwise, the implant will be allowed to rest for a period of weeks. In either case, the permanent replacement teeth will be secured to the implants at a subsequent visit.
Q: What are the advantages of an implant over other tooth replacement methods?
A: We already mentioned the high success rate and the long life of dental implants. Another advantage is the fact that implants stop the deterioration of bone in the jaw that inevitably follows tooth loss. Bone loss, a "hidden" consequence of tooth loss, is what tends to make people who are missing teeth look older than they really are. Implants need no special care beyond what you would give your natural teeth, and their longevity can make them a cost-effective investment in the long term. Plus, they look, function and "feel" just like your natural teeth.
If you'd like to find out more about dental implants, please contact us or schedule an appointment for a consultation. You can also read the Dear Doctor magazine articles "Dental Implants" and "The Hidden Consequences of Losing Teeth."