Several Factors Determine Tooth Longevity After a Root Canal Treatment
Several Factors Determine Tooth Longevity After a Root Canal Treatment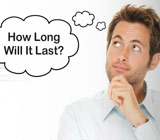 Tooth preservation is the ultimate aim of a root canal treatment. But how long should you expect a treated tooth to last? The answer will depend on a few different variables.
A root canal treatment is necessary when a tooth's pulp — the inner tissue made of nerves, blood vessels and connective tissues — becomes infected with disease. As the pulp dies, the infection spreads into the adjacent bone; this can eventually lead to loss of the tooth.
To stop this process, we enter the tooth and remove all of the pulp, disinfect the pulp chamber and the root canals, and then fill the chamber and canals. Depending on the type of tooth and level of decay, we seal the tooth with a filling or install a crown to prevent re-infection. it's then quite possible for a treated tooth to survive for years, decades, or even a lifetime.
There are a number of factors, though, that may affect its actual longevity. A primary one depends on how early in the disease you receive the root canal treatment. Tooth survival rates are much better if the infection hasn't spread into the bone. The earlier you're treated, the better the possible outcome.
Tooth survival also depends on how well and thorough the root canal is performed. It's imperative to remove diseased tissue and disinfect the interior spaces, followed by filling and sealing. In a related matter, not all teeth are equal in form or function. Front teeth, used primarily for cutting and incurring less chewing force, typically have a single root and are much easier to treat than back teeth. Back teeth, by contrast, have multiple roots and so more root canals to access and treat. A front tooth may not require a crown, but a back tooth invariably will.
These factors, as well as aging (older teeth tend to be more brittle and more susceptible to fracture), all play a role in determining the treated tooth's survival. But in spite of any negative factors, a root canal treatment is usually the best option for a diseased or damaged tooth. Although there are a number of good options for replacing a lost tooth, you're usually better in the long run if we can preserve your natural tooth for as long as possible.
If you would like more information on root canal treatments, please contact us or schedule an appointment for a consultation. You can also learn more about this topic by reading the Dear Doctor magazine article "Root Canal Treatment: How Long Will it Last?"
This website includes materials that are protected by copyright, or other proprietary rights. Transmission or reproduction of protected items beyond that allowed by fair use, as defined in the copyright laws, requires the written permission of the copyright owners.
Louetta and Spring, TX Family Dentist
Michael J Morris, DDS
9318 Louetta Road Suite 600
Spring
,
TX
77379
(281) 379-6939
Call For Pricing Options