Take a Look into Your Future with a Trial Smile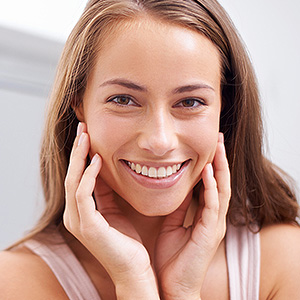 While the imagination is one of our most powerful mental abilities, many people still find it difficult to "see" in their minds a future dramatically different from the present. That could be the case with a "smile makeover"—it's not easy to imagine how proposed changes to your teeth and gums can affect your entire look.
Computer imaging software has helped in this regard. Starting with a photo of your current smile, we can manipulate it with imaging software to show you what any proposed dental work might look like after completion. But imaging technology has its limits: you're viewing a static, two-dimensional image that can't really show you how your new smile looks as your mouth and face move in a three-dimensional space.
There is another way, and although it may add to your treatment costs it can give you an even more realistic view of your future appearance. Known simply as a "trial smile," it's a procedure in which we temporarily place life-like bonding material called composite resin on your current teeth. We shape, cure and sculpt the resin to produce a three-dimensional model of what your future smile will look like.
A trial smile gives you a chance to experience in real time how this future smile looks and feels as you smile or talk. And although we'll have to remove it before you leave, we can photograph your new look for you to show to family and friends later for their reaction.
There are a couple of important reasons to have a trial smile. First, it gives us both a chance to review how the proposed changes may enhance your appearance, and whether we need to alter those plans in any way. It's a kind of dress rehearsal where we can improve the "script" before the actual performance.
Just as important, a trial smile can help reassure you about what to expect from the outcome. You'll have a fairly accurate idea of how you'll look, which will help reduce any apprehensions you might have.
If you'd like to include a trial smile in your treatment plan, please feel free to discuss it with us. It can be money well spent to ensure you'll be satisfied and delighted with your new smile.
If you would like more information on ways to restore your smile, please contact us or schedule an appointment for a consultation. You can also learn more about this topic by reading the Dear Doctor magazine article "Testing Your Smile Makeover."
This website includes materials that are protected by copyright, or other proprietary rights. Transmission or reproduction of protected items beyond that allowed by fair use, as defined in the copyright laws, requires the written permission of the copyright owners.
Louetta and Spring, TX Family Dentist
Michael J Morris, DDS
9318 Louetta Road Suite 600
Spring
,
TX
77379
(281) 379-6939
Call For Pricing Options