The Perils of a Loose Permanent Tooth - and What to do About it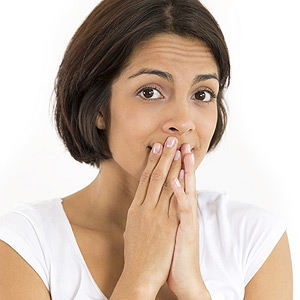 A loose baby tooth is normal and expected; a loose permanent tooth is quite another matter: it's an advanced sign of disease that could lead to losing the tooth.
The reasons for its looseness may vary. You may have experienced "primary occlusal trauma," in which the teeth have experienced a prolonged excessive biting force beyond their tolerance. This can be caused by habitual grinding or clenching the teeth.
You may have also experienced "secondary occlusal trauma": although the biting forces are within normal ranges, the teeth still can't handle the stress due to degraded bone support and gum tissue detachment. Clenching habits combined with weakened bone and gums will only accelerate and worsen the damage.
The most frequent cause in adults for loose teeth is secondary trauma from periodontal (gum) disease. Bacterial plaque built up on teeth from poor oral hygiene causes a chronic infection that eventually weakens gum attachment to the teeth. A loose tooth is a late sign of this damage.
Treatment for disease-based loose teeth has a twofold approach. First, we thoroughly clean the tooth, root and gum surfaces of all plaque and calculus (hardened plaque deposits) to reduce the infection and inflammation and restore tissue health. This is often accompanied by antibiotic treatments to reduce bacteria below the gum tissue.
For the loose teeth themselves, we may need to modify the forces against them while the gums and bone heal. One way to lessen the biting force on a tooth is to reshape its and the opposing tooth's biting surfaces. For extensive looseness we can also splint the affected tooth or teeth with other teeth. Temporarily, we can apply splinting material to the outside of both the loose and stable teeth or cut a small channel into them and apply bonding material to join them. A permanent option is to crown both the affected teeth and nearby stable teeth and fuse the crowns together.
These and other stabilizing techniques, like occlusal night guards to reduce the effects of teeth grinding or orthodontic treatment, will help secure the teeth. Coupled with disease treatment and renewed dental care and hygiene practices, you may be able to keep that loose tooth from being lost.
If you would like more information on treating loose teeth, please contact us or schedule an appointment for a consultation. You can also learn more about this topic by reading the Dear Doctor magazine article "Treatment for Loose Teeth."
This website includes materials that are protected by copyright, or other proprietary rights. Transmission or reproduction of protected items beyond that allowed by fair use, as defined in the copyright laws, requires the written permission of the copyright owners.
Louetta and Spring, TX Family Dentist
Michael J Morris, DDS
9318 Louetta Road Suite 600
Spring
,
TX
77379
(281) 379-6939
Call For Pricing Options