What's a Crown Worth? Aesthetics and Value in Tooth Restoration
What's a Crown Worth? Aesthetics and Value in Tooth Restoration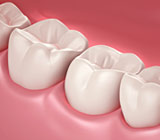 Getting a new crown for a front tooth is a standard procedure performed in thousands of dental offices around the country. But dental patients are sometimes surprised to find that the price of this routine treatment can vary by a substantial amount. What accounts for the difference? The answer tells us a lot about how crowns are made, and the value of aesthetics in dentistry.
Crowns may be made of several different materials. Gold, the most traditional restoration material, makes for a time-tested, functional and durable crown, lasting as long as 50 years. Gold is a precious (and expensive) metal, but considered over the lifetime of the restoration, it's an economical choice. Yet, even for back teeth, it's losing out in popularity to more aesthetically pleasing alternatives.
Porcelain-fused-to-metal (PFM) crowns and all-porcelain crowns replicate the look of natural teeth more accurately. The kind of porcelain used in restorations must have special strengtheners added, which enable it to stand up to wear and tear in the mouth. There are different porcelain materials used in dental restoration, each with a different look, quality and longevity. There are also new, high-tech ceramic materials. Each one has advantages and drawbacks, and each one's cost is different.
Besides the material, another large part of a crown's cost is the custom-fabrication of every piece. Since it must match the other teeth in form and function — and often in looks as well — every crown must be made to an individual's exact requirements. This includes the tooth's exact size and shape, its spacing, and (often) its particular color.
Making this happen is a multi-step process. First, a dentist carefully prepares a model of the affected tooth and its neighbors. Then, the fabrication work is normally performed by a highly skilled laboratory technician, at the dentist's direction. Finally, the dentist prepares the tooth for the restoration, performs final adjustments, and attaches the finished crown. When it's done, the restored tooth can be difficult to tell apart from any other.
The level of craftsmanship involved at the dental laboratory can vary — and along with it, the price. Dentists may even choose different technicians based on the quality level they're striving for. All of these factors affect the final cost of the crown, and its value to the patient.
It has been said that beauty is in the eye of the beholder, and this is certainly true in the case of dental restorations. The choice of a "best" crown is different for every person — more than one alternative may be available, and each comes with its own price. If you have more questions about your options for a crown restoration, don't hesitate to ask us!
If you would like more information about crowns, please contact us or schedule an appointment for a consultation. You can also learn more about this topic by reading the Dear Doctor magazine articles "Value of Quality Care," "Porcelain Crowns & Veneers," and "Gold or Porcelain Crowns."
This website includes materials that are protected by copyright, or other proprietary rights. Transmission or reproduction of protected items beyond that allowed by fair use, as defined in the copyright laws, requires the written permission of the copyright owners.
Louetta and Spring, TX Family Dentist
Michael J Morris, DDS
9318 Louetta Road Suite 600
Spring
,
TX
77379
(281) 379-6939
Call For Pricing Options